University Authorities
Dignitaries of Palacký University

Rector
prof. Mgr. Jaroslav Miller, M.A., Ph.D.
tel.: 585 631 001
fax: 585 631 012
e-mail: rektor@upol.cz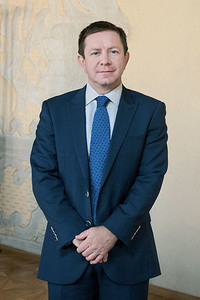 Prof. Mgr. Jaroslav Miller, M.A., Ph.D., (born 1971) studied History and Philology at Palacký University in Olomouc, Central European University in Budapest, and University of Oxford (Lady Margaret Hall). He studied under Josef Jařab, Ralf Dahrendorf, Stephen Greenblatt, and Robert JW Evans, among others.
In 2012, he was appointed professor of history, and until January 2014, he headed the Department of History of the Philosophical Faculty, PU, one of the largest centres of its kind in the Czech Republic.
He has taken part in a number of long-term research and teaching visits to the world's leading universities and research institutes in Canada, Hungary, USA, UK, Germany, and Australia. Twice he has received the prestigious scholarship of the German Alexander von Humboldt Foundation (2006 Marburg, 2010 Münster) and the fellowship of the Andrew W. Mellon Foundation (2004, 2010 Wolfenbüttel). In 2008, he was a Fulbright scholar at Georgia College and State University in Milledgeville in the United States. During the 2010/2011 academic year he was selected by an international commission for the post of a visiting professor at University of Western Australia in Perth. In 2012, the Ambassador of the United States appointed Jaroslav ambassador of the Fulbright Programme in the Czech Republic. He was the principal investigator of seven research projects funded by the Grant Agency of the Czech Republic. He is a member of numerous scientific organizations including the European Association of Urban Historians and the International Commission for the History of Cities.
Jaroslav Miller has received many academic and research awards, among others, in 2005, the R. John Rath Prize for Best Study in Habsburg History and the Best Urban History Monograph Award. In 2008, the British publishing house Ashgate put out his monograph Urban Societies in East Central Europe, 1500–1700. In 2010, he published (together with László Kontler) in New York and Budapest the monograph Friars, Nobles and Burghers – Sermons, Images and Prints: Studies of Culture and Society in Early-Modern Europe.
He is married, has two children, and his hobbies include sports, classical Russian literature, landscape gardening, and backpacking.

Chairperson of the Academic Senate
JUDr. Mag. iur. Michal Malacka, Ph.D., MBA
Faculty of Law, tř. 17. listopadu 8, Olomouc
Department of International and European Law
tel. 585 637 705
e-mail: michal.malacka@upol.cz

Vice-Rector for Study
prof. Mgr. MgA. Vít Zouhar, Ph.D.
tel.: 585 631 004, fax: 585 631 012
e-mail: prorektor.studium@upol.cz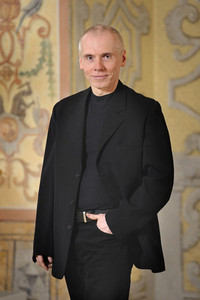 Prof. MgA. Mgr. Vít Zouhar, Ph.D., (born 1966) read Composition at Janáček Academy of Music (JAMU) and Musicology at Masaryk University in Brno. He then continued to study composition at Accademia Musicale Chigiana in Siena, Internationales Musikinstitut Darmstadt, and at Hochschule für Musik und Darstellende Kunst Graz, receiving his artistic postgraduate degree and Ph.D. from JAMU. At University of Ostrava, he became Associate Professor in Music Theory and Pedagogy.
After completing his studies he joined the staff of the Brno Conservatoire and Institut für Elektronische Musik und Akustik na Universität für Musik und darstellende Kunst Graz. Since 1992, he has been a member of the Department of Music Education, PU Faculty of Education, guaranteeing musical-theoretical courses in master's and doctoral degree programmes. Vít served as a coordinator of the Erasmus programme for Austria, Germany and Great Britain, and was the investigator and a co-investigator of a number of research, developmental, and internationalization projects. From 2003 to 2006, he served as Vice-Dean for Science, Research, Arts, and International Relations, as the investigator of development projects, and participated in the creation of a joint programme of the PU Faculty of Education and Valdosta State University.
The Vice-President of the Board of the Bohuslav Martinů Foundation, Vít is also a member of the JAMU Arts Council, the classical music committee of the Ministry of Culture of the Czech Republic, and the Editorial Board of Bohuslav Martinů Complete Critical Editon. In addition, he juries composing competitions (Generace) and is a member of OSA. From 2009 to 2013, he was a member of the panel of the Grant Agency of the Czech Republic (aesthetics and art disciplines).
His theoretical work focuses on music of the 20th and 21 centuries. Much of his interest centres on the work of Bohuslav Martinů and the phenomenon of composing in music education. He is the author of Postmoderní hudba? Německá diskuse na sklonku 20. století and co-author of Dear Friend. Bohuslav Martinů's Letters to Zdeněk Zouhar, and is involved in the preparation of Complete Critical Edition of the Work of Bohuslav Martinů. Vít has written over sixty studies and reviews published in monographs, periodicals, and anthologies. In 2001, he stood behind the foundation of the Different Hearing programme, which is focused on composing in music education and the development of creativity.
In addition to being a composer himself, Vít has also collaborated as a dramaturge with Czech music festivals (Forfest Kroměříž, Exposition of New Music). He is the author and co-author of operas (La Dafne, Coronide, Torso, Night-Day), stage melodramas (Radúz and Mahulena, Les Bienveillantes), and over fifty orchestral and chamber works. His music is featured at major festivals (Prague Spring, Poesiefestival Berlin, Schleswig-Holstein Musik Festival), appears in movies (Amerika, S.S. Palo Alto Project, Kouzlo jedné flétny), ballet, and theatre productions, is broadcasted and released on CDs. His theatrical work is on the repertoire of the National Theatre in Prague (Raduz and Mahulena, Monsieur de Pourceaugnac), the National Theatre in Brno (Dafne), and Ensemble Damian (Torso, Coronide). He is a holder of the Alfred Radok and NUBERG 2010 awards, as well as a number of others.
Since 2010, he has been Vice-Rector for Study. In his previous term of office, his priority was to unify the processes of the PU study agenda and emphasize respect for the principles of equal treatment of students' matters. He focused on support of multilingualism and sharing of capacities in programmes with Masaryk University and JAMU (consortium, the field of music). Vít also coordinated the amendment to the PU Study and Examination Code, participated in the conception of new scholarships (monetary and non-monetary), the modification of guidelines for student accommodation in dormitories (prioritizing the accommodation of first year students), fees (uniform procedures), the concept of algorithmic management of study agenda processes and the support for students with special needs. Furthermore, he initiated the establishment of centres supporting uniform procedures at PU (Department for Study, Assistance Centre for Students with Special Needs). He participated in the implementation of the Register of Artistic Performances. He investigates development projects and proposes standards and internal regulations.
In his position of Vice-Rector, Vít will aim to strengthen the excellence of education and training at the PU (internal accreditation, support of innovations in instruction and internationalization); emphasize the multilingual character of the university; highlight the continuity of the uniform, equal, and at the same time individual approach to students; unify the processes of study agenda; and simplify its administration at the PU using information systems.

Vice-Rector for Science and Research
prof. RNDr. Jitka Ulrichová, CSc.
tel.: 585 631 002, fax: 585 631 012
e-mail: jitka.ulrichova@upol.cz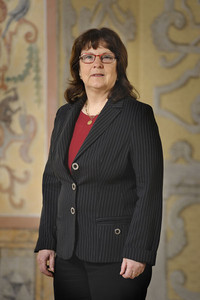 Prof. RNDr Jitka Ulrichová, CSc (b. 1956) graduated in Biochemistry at the Faculty of Science, Jan Evangelista Purkyně University (now Masaryk University in Brno). In 1997 she received the title of Docent in Biochemistry at the Faculty of Pharmacy, Charles University in Hradec Králové, and in 2003 she was named Professor in the same discipline at the UP Faculty of Medicine and Dentistry in Olomouc.
She currently heads the Department of Medical Chemistry and Biochemistry, which includes an accredited laboratory for testing the cytotoxicity of medical equipment. She is on the editorial board of the journals Biomedical Papers and Acta Medica. She has spent part of her professional life abroad (e.g. INSERM Montpellier; the French National Center for Scientific Research and the Pierre and Marie Curie University in Paris, and the National Institute of Chemistry in Ljubljana, Slovenia).
Her Master's thesis, doctoral dissertation, and the majority of her research all focus on the study of the biological activity of natural compounds. The results of her research appear not only in publications but are also reflected in the implementation sphere – in areas such as food supplements.
She has been Vice-Rector for Science and Research since 2006. She has broad experience in national and international grant projects as both investigator and evaluator, both in the Czech Republic and the EU (the Czech Science Foundation, the Ministry of Education, Youth and Sports and the Ministry of Industry and Trade of the Czech Republic, the EU Framework Programme, Erasmus Mundus). She was able to prove her organizational skills as the President of the Czech Chemical Society from 2005 until 2013.
In her next term of office, she would like to reinforce the involvement of research teams in international projects, support young researchers, and interlink research teams with the application sphere.

Vice-Rector for International Relations
prof. Mgr. Martin Kudláček
tel.: 585 631 005
e-mail: martin.kudlacek@upol.cz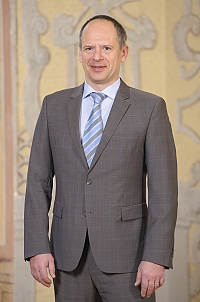 Prof. Mgr. Martin Kudláček, Ph.D. (b. 1974) studied Adapted Physical Education at the UP Faculty of Physical Culture in Olomouc. He continued his doctoral studies at Texas Woman's University, and after promotion in 2001 he was employed as an Assistant Professor at the Department of Adapted Physical Activities at the UP Faculty of Physical Culture, since 2009 as an Associate Professor.
His long-term focus is on the issue of sportspersons with physical disabilities. For ten years he was engaged in the leadership of Czech sledge hockey, with the team qualifying to the 2010 Winter Paralympic Games in Vancouver. In the area of adapted physical activities, he has been very active in developing Paralympic School Day, which consists of educational programmes under the auspices of the International Paralympic Committee. In 2010–2014, he presided over the European Federation for Adapted Physical Activity and until 2018 he was the executive editor of the European Journal of Adapted Physical Activity.
He served in the Faculty Senate of the UP Faculty of Physical Culture and from 2012–2018 he was Vice-Dean for International Collaboration and Information Technologies. He is the author and investigator of several European grant projects with their main focus on the issue of pedagogical competence in working with persons with disabilities in the field of physical culture and sport. He is the author of almost 70 peer-reviewed articles, with more than a hundred citations. He is a member of the Scientific Board, Doctoral Board, and the guarantor of Adapted Physical Activity study programme. In the last 15 years, he also taught at partner universities in Europe, the United States, Canada, Australia, and China.
He is married, has two children, and his interests include sports, hiking, nature, seas, mountains, and martial arts.
Being Vice-Rector for International Relations is for him an opportunity to create quality support for international activities of individual faculties and improve the conditions for the study of international students as well as the work of foreign colleagues in Olomouc. He would like to widen the offer of foreign-language study programmes at UP and to support the study of Czech students abroad.


Vice-Rector for External Relations
Mgr. Petr Bilík, Ph.D.
tel.: 585 631 007, 774 409 069
e-mail: petr.bilik@upol.cz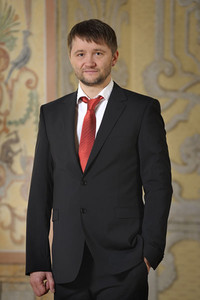 Mgr. Petr Bilík, Ph.D., (born 1974) studied History and Theory of Literature, Theatre and Film, and briefly also History of Art at the Philosophical Faculty of Palacky University in Olomouc. He received his Ph.D. degree from the PU Department of Theory and History of Dramatic Arts (now the Department of Theatre, Film and Media Studies), where he became an assistant professor specializing in Czech Cinema and Culture Management.
After graduation, he first worked in MF Dnes and then as an editor for Host, a literary monthly. He then went to join Česká televize Brno, initially as an editor and literary manager of a literary-drama editorial team, and later also as a screenwriter. Petr has co-organized or founded several film activities (Head of Staff of the Summer Film School (LFS); founder and organizer of the Festival of Animated Film; Head of Academia Film Olomouc) and was chief editor of DocRevue and Filmové Listy. Additionally, he co-founded and is Vice-President of the Czech Society for Film Studies (CEFS). He sits on the editorial board of journals Host and Iluminace. In 2012 he published his book Ladislav Helge – Cesta za občanským filmem.
In recent years, Petr has undergone a number of study programmes and internships (University of St. Andrews, University of Bristol, BBC).
He is married with two children, and his hobbies and interests include mainly art, sports, culinary art, and travelling.
He sat on and headed the Academic Senate of the Philosophical Faculty of UP, later becoming UP FF Vice-Dean for External Relations and Project Management. He is the author and investigator of several European grant projects focused mainly on the organization of internships in the film industry and the media, care for employees, and system solutions in tertiary education. As part of his activities he carried out a number of national and international PR, marketing, and media campaigns.
For him the position of Vice-Rector for External Relations is a call to unite and highlight Palacký University as an elite institution set in the extraordinary environment of the city of Olomouc.

Vice-Rector for Strategic Planning and Quality
doc. PhDr. Hana Marešová, Ph.D., MBA
tel.: 585 631 010
e-mail: hana.maresova@upol.cz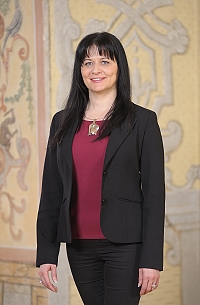 Doc. PhDr. Hana Marešová, Ph.D., MBA, (b. 1972) graduated from the UP Faculty of Education in Olomouc and defended her Czech Language rigorous and doctoral dissertations at the UP Faculty of Arts. In 2013 she became a docent in Education at the UP Faculty of Education. In 2018 she received her Master of Business Administration degree from Cambridge Business School in Prague.
Since 1996 she has been employed at the Department of Czech Language and Literature at the UP Faculty of Education in Olomouc, where she is the guarantor of grammar courses and didactic courses specialising in the use of digital technologies in language education. She also leads the Centre for Innovation in Education at the Centre for Lifelong Education at the UP Faculty of Education, where she is engaged in research and utilisation of innovative methods and approaches in education (esp. digital technologies in education and supporting entrepreneurial spirit, creativity, and initiative in students). She also worked at the Department of Journalism at the UP Faculty of Arts, where she was the guarantor of the course New Media and Cyberculture.
In the years 2011–2016 she was a Vice-Dean for Student Affairs and Lifelong Education, then Vice-Dean for Organisation, Development and Lifelong Education at the UP Faculty of Education in Olomouc.
She is a member of professional associations and societies in the fields of pedagogy and education, such as the Czech Education Research Association, Czech Pedagogic Society, International Association for Research in L1 Education (ARLE; formerly International Association for the Improvement of Mother Tongue Education), Union of School Information Scientists, as well as a member of several work groups in charge of national and regional education policies, e.g. at the Czech Ministry of Education, Youth and Sports, in the Olomouc Region and City of Olomouc. She is a member of the board of directors of OK4Innovation and a member of the Czech Pedagogical Chamber.
She is the main investigator and co-investigator of more than 20 research or developmental projects (ESF, IGA, GAČR, FRVŠ, Grundtvig, Erasmus+, etc.), including international ones, esp. in collaboration with the United Kingdom. She is one of the evaluators of applications to the Czech Science Foundation (GAČR), the Fund for Development of Universities (FRVŠ), European Social Fund (ESF), and others.
Her research into linguistics was focussed mainly on the language of Czech enclaves abroad; her current work in didactics deals with the use of digital technologies in language education. In this area she also collaborated with the Czech Ministry of Education, Youth and Sports in order to prepare the State Information Policy in Education and the Strategies in Digital Education until 2020. Most recently she focuses mostly on the use of 3D virtual reality and its impact on educational processes; thus she also collaborates with the European Space Agency (ESA) on the educational project ESERO. She is the author of 5 monographs and chapters in monographs and more than 65 academic articles published in foreign and domestic scholarly journals or conference proceedings. She is the author of 12 educational texts and textbooks, a supervisor of doctoral students, a member of doctoral boards of doctoral study programmes Education and Literature Didactics at the UP Faculty of Education and a member of the doctoral committee for Czech Language Didactics at the Charles University Faculty of Education in Prague.
On the basis of her research, she has had several study stays abroad – such as in Glasgow, Bournemouth, and Basingstoke, UK – and research stays, e.g. in Brussels, Gäwle (Sweden), Riga (Latvia), Łódź (Poland). She regularly attends international conferences, e.g. in Oxford (UK), Salzburg and Linz (Austria), and Antalyi (Turkey).
She is married and has two children; her hobbies include sports (badminton, skiing) and music (playing the piano).
Her priority as Vice-Rector of Strategic Planning and Quality Control will be, apart from efficiency improvement in strategic planning, the implementation of quality control according to the EFQM Excellence Model. She perceives this task as a challenge for the improvement of UP's excellence in all areas of its activity and for increasing the university's ability to compete within Europe. The introduction of a complex quality system will be a tool for decision-making on the basis of concrete data analysis, which means management with respect to existing context, not only within university procedures, but also with respect to external factors, such as the current situation on the job market, and so forth. The change of approach on the basis of quality evaluation will be built, most of all, on the need to embed quality into everyday university operations.

Bursar
Ing. Jiří Přidal
tel.: 585 631 008
fax: 585 631 012
e-mail: jiri.pridal@upol.cz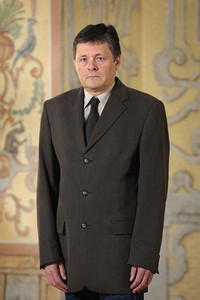 Ing. Jiří Přidal (born 1964) studied Systems Engineering at the Faculty of Economics of Technical University of Ostrava.
After graduation, he joined the DG SIGMA concern Olomouc as an independent technical expert, where he was jointly responsible for building automation control systems. In AQUACOOP he was a senior technical expert in the section of the development of technical management and automation. He then joined the Olomouc District Office as a member of the District Privatization Commission (evaluation of privatization projects and organization of auctions). In Hanácké Pekárny a Cukrárny, he worked as a programmer-analyst, implementing and expanding the business management software. Since 1992, his career has been linked with the Faculty of Medicine, Palacky University, which he joined as an economist.
From 1995 to January 2014 he served as Secretary, in charge of the finances and management of the Faculty. Recently he has participated in two major projects: the completion of the Theoretical Institutes of the Faculty of Medicine and the construction of the new building BIOMEDREG - Institute of Molecular and Translational Medicine. Complementing the original building of the Theoretical Institutes, both projects were funded from the Operational Programme Research and Development for Innovation with CZK 2 billion. Jiří thus participated in the largest investment to date in the history of the Faculty of Medicine.
For Jiří, the new position of Bursar of Palacky University in Olomouc is an expansion and follow-up of his work for the Faculty of Medicine, now spanning the university as a whole. As the Bursar he will utilise his professional experience and know-how concerning economic management, helping to develop and modernize the entire university.

Head of Rector's Office
PhDr. Rostislav Hladký, MBA
tel.: 585 631 009
fax: 585 631 012
e-mail: kancler@upol.cz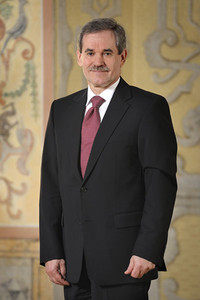 PhDr. Rostislav Hladký, MBA (born 1954) studied History and German Philology at the Philosophical Faculty, Palacký University in Olomouc, and Information Studies at the Faculty of Arts, Charles University in Prague. He received his PhDr. in History from Palacký University.
Rostislav started off his professional career as a researcher in modern history at the Vsetín Regional Museum, only to return to Olomouc soon after, to the Faculty of Medicine. Here he managed the library, introduced information technology and database services for biomedicine research (in November 1989 he was the spokesman of the Faculty's Civic Forum Party). From the beginning of 1990, he was in charge of the preparation of the project of the PU Information Centre, spending the first half of 1991 as an intern at universities in Canada. From 1991 to 2006, he was the Director of the Information Centre (which included today's Media Centre, Conference Centre, Centre for Distance Education, Computer Centre, Library and PU Publishing). From 1996 to 1997 and from 2002 to 2006, he was director of the festival Academia Film Olomouc, which hosted many leading filmmakers, documentarians, photographers, and other artists (Marcel Łoziński, Vojtěch Jasný, Albert Maysels, Agnieszka Holland, Matej Mináč, Norbert Auerbach or Suzanne Vega). Rostislav is the Secretary of the PU Board of Directors.
He has participated in shorter internships, stays, and workshops abroad, and in lectures at national and international conferences. From 1994 to 2000, he was a member of the INFRA Programme Board at the Ministry of Education, Youth and Sports of the Czech Republic, Vice Chair of the Foundation for the Protection of the National Library in Prague, member of the CASLIN Council, and member of the HE Library Section at the Council of Higher Education Institutions of the Czech Republic. He was investigator and co-investigator of grant programmes (Getty Foundation, Mellon Foundation, University Development Fund, etc.) and an opponent of projects under the Ministry of Education, Ministry of Culture, and Ministry of Health of the Czech Republic.
Since 2007, Rostislav has been the PU Head of the Rector's Office, ensuring management, organization, and administration associated with the operation of the University, and organizing conferences, conventions, and university celebrations. From 2008 to 2012, he was responsible for public relations and was the spokesperson for the University.
The Academic Senate of Palacký University Olomouc (UP AS) is a self-governing representative academic body, with 24 members. The UP AS members are elected from amongst the members of the academic community; each faculty is represented by two academic senators and one student senator. The term of office is three years. The UP AS sessions are open to the public. The UP AS Economic and Legislative Commissions prepare the foundations and opinions for detailed solution of individual issues which arise during Senate sessions. The UP AS is governed by the laws of the Czech Republic, in particular the University Law (Law No. 111/1998 Czech Law Col.) and UP internal rules, in particular UP Statutes and UP AS Election Rules.
The members of the UP Scholarly Board are prominent experts in the fields of the educational, scientific, research, and artistic activities of Palacký University. Its members also include persons who are not members of the UP academic community.
UP Scholarly Board Members
In the term running from February 1, 2018 to January 31, 2022
Internal members of the UP Scholarly Board:
prof. Mgr. Jaroslav Miller, M.A., Ph.D. - Rector, Palacký University, UP AB Chair, History
prof. Dr hab. RNDr. Jan Andres, DSc. - UP FS, Mathematics
prof. Mgr. Ondřej Bábek, Dr. - UP FS, Geology, Geophysics
prof. RNDr. Radim Bělohlávek, Ph.D., DSc. - UP FS Informatics and Cybernetics
Prof. PhDr. Panajotis Cakirpaloglu, DrSc. - UP FA, FF UP, Educational Psychology, Clinical Psychology
doc. Mgr. Jaromír Fiurášek, Ph.D. - UP FS, Optics and Optoelectronics
prof. RNDr. Ivo Frébort, CSc., Ph.D. - UP FS, Analytical Chemistry, Biochemistry
prof. PhDr. Jana Geršlová, CSc. - UP FA, National Economy, Economics
doc. MUDr. Marián Hajdúch, Ph.D. - UP FMD, Oncology
prof. Mgr. Radomír Halaš, Dr. - UP FS, Algebra and Geometry
prof. MUDr. Roman Havlík, Ph.D. - UP FMD, Surgery, Oncological Surgery
prof. Ing. Pavel Hobza, DrSc., dr.h.c., FRSC - UP FS, Physical Chemistry
prof. RNDr. Zdeněk Hradil, CSc. - UP FS, Optics and Quantum Electronics
doc. Vít Hušek, Th.D. CMTF - UP CMFT, Theology
prof. RNDr. Miroslav Janura, Dr. - UP FPC, Kinanthropology
doc. PhDr. Lenka Křupková, Ph.D. - FA UP, Musicology
doc. RNDr. Martin Kubala, Ph.D. - Dean, UP FS, Biophysics
prof. PhDr. Jiří Lach, Ph.D., MA. - UP FA, History, Political Science
prof. PaedDr. Libuše Ludíková, CSc. - Dean, FE, Special Education
prof. PhDr. Dušan Lužný, Dr. - UP FA, Sociology, Psychology
doc. PaedDr. Tatiana Matulayová, Ph.D. - UP CMFT, Education, Andragogy, Social Work
JUDr. Zdenka Papoušková, Ph.D. - Dean, UP FL, Law, Financial Law
prof. PhDr. Zdeněk Pechal, CSc. - Dean, UP FA, History of Slavonic Literature, History of Czech, Polish and Russian Literature
Mgr. Michal Šafář, Ph.D. - Dean, UP FPC, Kinanthropology
prof. Ing. Mgr. Peter Tavel, Ph.D. - Dean, UP UP CMFT, Clinical Psychology, Theology
prof. RNDr. Jitka Ulrichová, CSc. - Vice-Rector for Science and Research, UP FMD, Medical Chemistry and Biochemistry
doc. MUDr. Jaroslav Vomáčka, Ph.D., MBA - Dean, UP FHS, Radiological Methods
prof. RNDr. Vít Voženílek, CSc. - UP FS, Physical Geography, Geoinformatics
prof. RNDr. Radek Zbořil, Ph.D. - UP FS, Physical Chemistry
External Members:
doc. PhDr. Emil Aslan (SOULEIMANOV- pen name), Ph.D. - Charles University, International Relations, International Territorial Studies
prof. MUDr. Martin Bareš, Ph.D. - Dean, Masaryk University, Neurology
prof. Miloš Havelka, CSc. - Charles University, History of Political Thought, Ideas and Philosophy, Historical Sociology, Sociology and Sociology of Religion
PhDr. Eva Kowalská, DrSc. -Institute of History, Slovak Academy of Sciences, History – Slovak History
doc. JUDr. Filip Křepelka, Ph.D. - Masaryk University, EU Law, Economic Law, Health Law
prof. PhDr. Petr Kyloušek, CSc. - Masaryk University, History of Literature (Roman Languages), Theory of Literature
doc. Tomáš Machula, Ph.D., Th.D. - Rector, University of South Bohemia, Systematic Theology, Philosophy, Applied and Landscape Ecology
prof. Ing. Jiří Málek, DrSc. - Rector, University of Pardubice, Physical Chemistry
doc. PhDr. Jiří Němec, Ph.D. - Dean, Masaryk University, Education, Psychology
prof. Dr. Ing. Drahomíra Pavelková - Tomáš Baťa University, Management and Business Economics
prof. PhDr. Milada Rabušicová, Dr. - Masaryk University, Andragogy, Education
prof. PhDr. Karel Rýdl, CSc. - Dean, University of Pardubice, Education, History of Education
prof. RNDr. Václav Snášel, CSc. - Rector, rektor VŠB - Technical University of Ostrava, Informatics
prof. PhDr. David Šmahel, Ph.D. - Masaryk University, Developmental Psychology, Social Psychology
prof. Mgr. Jindřich Štreit - Silesian University Opava, Fine Arts - Photography
prof. PhDr. Valérie Tóthová, Ph.D. - Dean, South Bohemian University, děkanka ZSF JU v Českých Budějovicích, Nursing
prof. RNDr. Eva Zažímalová, CSc. - Czech Academy of Science Chair, Anatomy and Physiology of Plants
Rulings of the UP Scholarly Board (see Notice Board)
The UP Board of Trustees is defined in the Czech University Law chiefly as a supervisory body with several executive powers. Its operation and authority is clearly defined in regard to the economic management of a public university and its related activities.
Members of the UP Board of Trustees
As of May 24th, 2019
Chairperson
Mons Jan Graubner, Olomouc Archbishop and Metropolitan of Moravia (current term of office: until February 2021)
Vice-Chairs
Ing Pavel Prudký, Director of the Tax Office for the Olomouc Region (until may 2021)
Dr Ing Otakar Fojt, Science Attaché at the British Embassy Prague (until May 2017)
Members
Ing Roman Cabálek, MBA, entrepreneur and IT consultant, Executive Director of BDMG – Better Decision Making Group (until May 2023)
MUDr Jitka Chalánková, independent member of the Senate of the Czech Republic (until May 2023)
Dr Ing Václav John, Railway Infrastructure Administration, Director of the Civil Engineering Administration – East (until May 2023)
Ing Marian Jurečka, Member of the Parliament of the Czech Republic (until February 2021)
RNDr Robert Kuropatwa, PhD, manager for Czech Republic and Slovakia, KARL STORZ GmbH & Co. KG, Tuttlingen, Germany (until May 2023)
Ing Bořivoj Minář, Chairman of the Board, Chamber of Commerce of the Olomouc Region (until October 2021)
Ing Pavel Kysilka, CSc., economist, member of the Board of Directors of 6D Academy, z.ú (until May 2023)
Martin Novotný, politician, member of the ODS party (until May 2021)
RNDr Hana Ripková, PhD, Executive Director, J.W. Fulbright Commission, (until May 2026)
Ing Jiří Rozbořil, politician, member of the ČSSD party (until February 2021)
Ing Milan Šimonovský, Statutory Director and Chair of the Administrative Board in SIGMA GROUP (until May 2025)
Ing Michaela Šojdrová, Member of the European Parliament (until May 2021)
Secretary
PhDr Rostislav Hladký, MBA, Palacký University Chancellor
Records and rulings from sessions (Notice Board)