Tips & assistance
Academic Calendar & Organisation of Study
The academic year is divided into two semesters. Each semester is 13 weeks long. Winter semester starts in late September; in the last week before Christmas there are no classes because it is a "credit week", which is one week of mostly written tests which are either a completion of the courses themselves or a prerequisite of registering for an oral exam in the exam period. The exam period goes on through January until mid-February. The summer semester runs from mid-February to mid-May. The last week is again a credit week, with the exam period lasting until the end of June.
Academic calendar 2022/2023
The academic year starts on 1 September 2022 and ends on 31 August 2023. The winter semester classes end before Christmas. Exams are scheduled throughout January. The summer semester begins in the middle of February and classes end in the middle of May with exams continuing until the end of June.
With approval from respective departments, students can take examinations also before the official examination period.

Winter semester at the Faculty of Medicine and Dentistry and Faculty of Health Sciences starts on 2/12 September 2022 and ends on 3 February/6 January 2023.

Summer Semester at the Faculty of Medicine and Dentistry and Faculty of Health Sciences starts on 26 January/13 February 2023 and ends on 2 June 2023 (Faculty of Medicine and Dentistry) and 26 May 2023 (Faculty of Health Sciences).

Orientation week Winter semester (for Erasmus+&Exchange students)

12 September - 16 September 2022

Winter semester (beginning of classes)

19 September 2022*

Winter semester (ending of classes)

16 December 2022*

Christmas break

19 December 2022 - 2 January 2023

Examination period beginning*

2 January 2023

Examination period ending

10 February 2023

Arrival at the dormitories

3 – 5 February 2023

Orientation week Summer semester (for Erasmus+&Exchange students)

6 – 10 February 2023

Summer semester (beginning of classes)

13 February 2023*

Summer semester (ending of classes)

12 May 2023*

Palacký University Olomouc Academic week

13 - 19 February 2023

Sports Days

28 September 2022 + 10 May 2023

Examination period beginning *

15 May 2023

Examination period ending

30 June 2023
(6 September 2023 at the latest)
All full degree students (Bachelor's or Master's students) are allowed to do temporary work for up to 300 hours per a year. If students want to work more than 150 hours per a year then they need a work permit (except for students from the EU member countries). Other international students (non-EU) are required to hold a work permit to undertake paid work of any kind.
Exchange students who are less than 26 years old are allowed to do temporary work up to 300 hours per a year provided they do not work longer than 7 days in sequence or a max. 30 days in a calendar year.
Besides the Labour Office attempting to accumulate all job vacancies – as listed below – there is no central registry you can go to, to learn about job openings. Perhaps the most comprehensive is the English version of the jobs.cz server.
Other popular job search servers include expats.cz/jobs, jobspin.cz and acjobs.cz for more multilingual jobs, executivejob.cz for management career opportunities, itjobs.cz for IT professionals and global monster.cz. Job vacancies for (not only) French-speakers are also available through a project of the French Embassy czechemploi.fr.
Student organisations and UP Student Club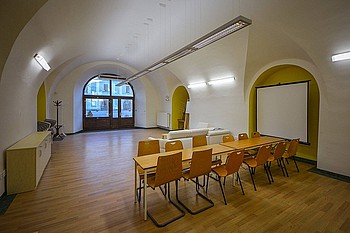 At Palacký University at present, there are dozens of student organisations and associations, uniting hundreds of active students throughout UP's eight faculties. In February 2018, the UP Student Club was opened for these organisations, in a space housed within the UP Central Library (Zbrojnice – Armoury).
The Club room is primarily intended for organising meetings and training sessions for members, screenings, workshops and thematic lectures. At the Club, organisations have basic technical equipment at their disposal, such as a data projector and screen, Internet connection, and printer. There are also meeting areas, bulletin boards, a flip chart, relaxation zone and lockable spaces for storing materials. The Club is constantly accessible, based on a shared calendar of room use.
The secondary use of the Club space will be by the Student Career and Counselling Centre for workshops and lectures, and the UP Olomouc May Celebrations (Majáles) organisational team, as well as the Park it! Embrace the Public Space! initiative.
Club Manager:
Zuzana Pejpková
zuzana.pejpkova@upol.cz | 733 373 734
UPoint offers a variety of souvenirs and useful items (ranging from pens to picnic blankets to university-produced honey or beer). Each item we carry has been carefully chosen for our customers from quality local suppliers. Our graduates have created our own fashion brand called UniWearCity. Come in and find the most prestigious publications from the university publishing house and from Academic Publishing all in one place.
UPoint - The Information Centre and Shop of Palacký University Olomouc
Horní náměstí 205/12
Monday, Tuesday: 09:00–17:00
Wednesday: 09:00–20:00
Thursday, Friday: 09:00–17:00
Saturday: 09:00-12:00 (July and August closed)
www.upoint.upol.cz/en
We believe that students should be active citizens, and volunteering represents a great opportunity to change the world around you. Our Volunteering Centre is the first Czech university centre to unite active students and arrange volunteer opportunities for them. The Centre helps UP students and employees to become acquainted with the opportunities organisations are offering, with the organisations who cooperate with volunteers, and to gain experience in coordinating help to others. What does our work involve?
we support volunteering as an opportunity for self-development and gaining experience

we coordinate requests for volunteering and offers to volunteer for and by UP students and employees

we educate in the area of expert, legal and personal questions related to volunteering activities

we register and evaluate volunteering activities of UP students and employees
Sustainable development is a pivotal principle of how Palacký University Olomouc is navigating through the 21st century. The evident climate changes and the accelerating development of technologies and innovations, as well the trends in the evolution of global, European, and Czech society together form the initial framework for the dynamics of change at our university. These factors co-create an environment of influences, potentials, opportunities, and threats to which Palacký University Olomouc consciously responds in 2021 by also starting to make deliberate, targeted, and systematic decisions that are directly and explicitly related to sustainable development.
Would you like to create a responsible and sustainable university with us? Visit our web and contact us!