Accommodation & livelihood
There are two university accommodation campuses you can choose from: Envelopa and Neředín campus. Envelopa campus is very close to the city centre while Neředín is on the outskirt with easy access to walks in nature.
More information about the university housing options.
More information on how to book a room in the dormitories, or for your family or friends visiting.
Once you arrive to the dormitories, you will be asked to sign a housing contract and pay a deposit for the accommodation. This, however, does not have to be paid immediately and you can pay the deposit within the first week. Make sure that you pay all the costs (deposit and monthly rent) on time, otherwise you will be put on a list of debtors which can result in you being evicted.
The amount of rooms at the dormitories is quite limited, so there is also an option to rent a room / apartment in the private sector. Usually, a group of students rent a whole apartment they share together. You can check the official websites for renting apartments here:
We can also recommend for you to book a room at Nezvalova archa.
In case you would like to find roommates, you can always check Facebook groups where students write down information about themselves and ask for a room or someone to rent an apartment with.
Room sharing in Olomouc Facebook group (Czech)
Another Facebook group on room sharing in Olomouc (Czech)
You can also join a group of English speaking people in Olomouc on Facebook and ask them for tips as they have all already gone through the accommodation options. Moreover, you can always join them for the weekly activities they organise!
Libraries and international culture centres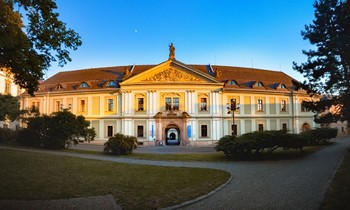 Palacký University has a central library called Zbrojnice where you can study, borrow books, join the non-stop study area or just relax and have a coffee. Some of the faculties have their own libraries such as Faculty of Law, Faculty of Science or Faculty of Medicine and Dentistry.
In case you prefer to read popular novels, you can visit City Library of Olomouc or Science Library.
Olomouc and Palacký University are also home to several institutions representing different countries' languages and cultures. They organise cultural events and lectures and lend magazines and books.
Student organisations and UP Student Club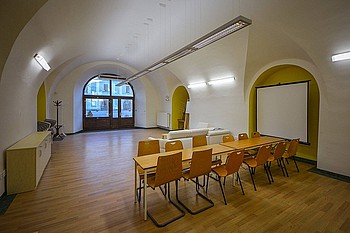 At Palacký University at present, there are dozens of student organisations and associations, uniting hundreds of active students throughout UP's eight faculties. In February 2018, the UP Student Club was opened for these organisations, in a space housed within the UP Central Library (Zbrojnice – Armoury).
The Club room is primarily intended for organising meetings and training sessions for members, screenings, workshops and thematic lectures. At the Club, organisations have basic technical equipment at their disposal, such as a data projector and screen, Internet connection, and printer. There are also meeting areas, bulletin boards, a flip chart, relaxation zone and lockable spaces for storing materials. The Club is constantly accessible, based on a shared calendar of room use.
The secondary use of the Club space will be by the Student Career and Counselling Centre for workshops and lectures, and the UP Olomouc May Celebrations (Majáles) organisational team, as well as the Park it! Embrace the Public Space! initiative.
Club Manager:
Zuzana Pejpková
zuzana.pejpkova@upol.cz | 733 373 734
UPLIFT language school is a purpose-built organisation within the Faculty of Arts, Palacky University in Olomouc, and was established in order to provide government departments, businesses, non-profit organisations, high school students and the general public with the highest-quality language education, which UPLIFT is uniquely equipped to provide thanks to its access to the Faculty of Arts´ staff and expertise.
Apart from commonly offered languages like English, German, French, Italian, Spanish and Russian, they also offer more exotic languages such as Portuguese, Swedish, Ukrainian, Dutch, Croatian, Japanese, Chinese and Greek, along with Vietnamese, Indonesian and Hebrew amongst others.
UPLIFT also offers courses of Czech for foreigners that we can highly recommend to you!
First, you need to know your login and your password. Your login is your Portal ID. Students can find their Portal ID in Contacts tab in UP Portal. Initial e-mail password for students is their birth code (without slash or dash). You can change your password in Portal in Edit my profile tab. If you change your portal password, your e-mail password will be changed automaticallyǃ
Students can access their university e-mail through following webpageː outlook.com/upol.cz.
Loginː PortalID@upol.cz - Students login will look like: 20021111@upol.cz, dvorak04@upol.cz. Students can find their Portal ID in Portal tab Contacts.
Passwordː portal password (if you have not changed you e-mail password yet)
Each user will have to set up language and time zone of the e-mail app (+1 hour Prague, Budapest, Bratislava) when logging in for the first time. Other setup is not necessary for common user, outgoing e-mail address is already set up, you can use your e-mail for sending and receiving messages.
Student e-mail address
Each first year student will receive an automatically generated e-mail address. You can find your e-mail address in Contacts tab in portal when student affairs deparment registers new student in STAG. The mailbox is created in September, at latest during the first week of studies.
Your e-mail address form is derived from your name and surname, you will be given an order number (e.g. name Jana Novotna occurs four times at UP). Therefore, a student called Karel Malina will receive an official e-mail address karel.malina01@upol.cz.

At some faculties, you are going to be asked to open a bank account in order to receive your scholarship. You can choose from several banks to open your account in the Czech Republic.
The conditions for opening an account may vary from bank to bank, but in general you need:
As an EU student
Passport

Mobile phone (Czech number)

proof of studies no older than 30 days
As a non-EU student
mobile phone (Czech number)

proof of studies no older than 30 days

D visa or other permit proving that you meet the conditions for residence in the Czech Republic
Before visiting the bank, please prepare:
phone number

passport

e-mail address

place of birth

permanent address (home country)

contact address in the Czech Republic (for credit card delivery)
Waste management municipal fee
Foreigners who stay in Olomouc for more than 90 days are obliged to pay the waste management municipal fee.
Please download:
and read the information via links below for more details.
Students under 26 years of age staying in UP dorms are not required to pay the fee.
In 2023, the fee is 804 CZK.
Students who will come to pay the fee in person at the Olomouc office should respect the office hours on Monday and Wednesday.

Concerning the online payments, to count the portion to pay, please count the number of months you have spent in Olomouc. The month you are leaving is not counted. You should divide the yearly fee of 804 into 12 months of the calendar year, and the result multiply by the number of months spent in Olomouc (include the first months of your stay and exclude the last month if leaving before its end).
1. e.g. Student XY in Olomouc - February 2022 to May 25, 2022.
804:12 = 67 CZK
67 x 3 (February - April) = 201 CZK
Note: May is not included because of the student departure before the end of the month.
2. e.g. Student YX in Olomouc from September 2021 to June 1, 2022
804:12 = 67 CZK
67 x 9 (September – May) = 612 CZK
In case of need, contact the Municipality Office, Waste management office at Palackého street 14, NAMIRO building.