News & Reminders
CORONAVIRUS INFORMATION FOR PARTNERS AND EXCHANGE STUDENTS
Dear partners and exchange students, we have prepared an updated summary of information related to the SARS-CoV-2 (the new coronavirus) measurements. Please follow the links according to your relation towards Palacký University Olomouc:
IMPORTANT NOTE FOR STUDENTS
In case you have any symptoms or in case you find out that a person you were in contact with was positively tested for COVID-19, inform the accommodation office (telephone/email). Depending on your symptoms, call the doctor (Army Hospital, in morning hours) or emergency line 112 or 1221, inform the IRO coordinator.
In case you are placed in quarantine inform your teachers vie email about the reason for your absence in classes and to agree on online academic work to maintain your study plan.
How to arrange ONE SEMESTER EXTENSION of your study stay?
Winter semester students who plan to prolong their study stay at Palacký University for the whole academic year must inform the International Relations Office and the Faculty coordinator before the end of the winter semester classes and by 18th December 2020 submit a request in the UP online application and send a signed "Extension of Erasmus Study Period Form" to zuzana.hamdanieh@upol.cz . Details and instructions to be found in the document below.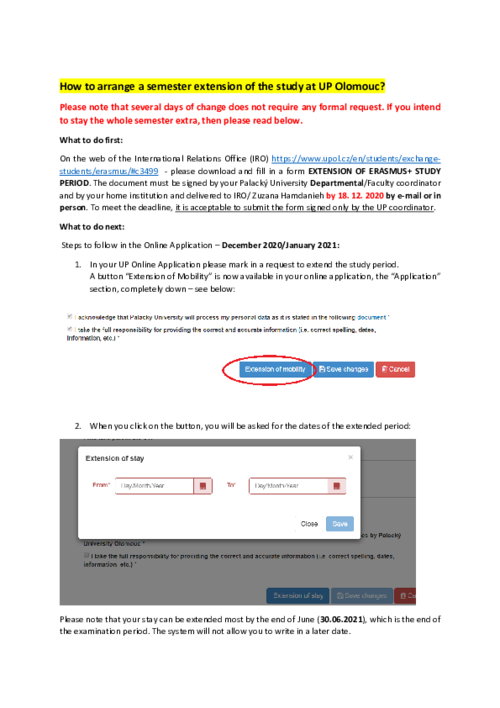 Final / Important DOCUMENTS
WASTE MANAGEMENT MUNICIPAL FEE
How to deal with the CHANGES TO THE ORIGINAL LEARNING AGREEMENT
WHERE TO FIND YOUR FACULTY COORDINATOR?
Please check the list of the FACULTY COORDINATORS containing the contact information and address of their offices.
LIST OF DEPARTMENTAL COORDINATORS
To see the complete list please click HERE.